"Bobby Bruno DJ'd our wedding and was wonderful! I would recommend him to any and everyone!!  My entire party loved him and still keeps complimenting how good he was! He knows how to keep the party going and really knows how to pick music based on the crowd he was given. he joins in on the fun from time to time and is very entertaining. Very very impressed with his skills! He even stayed an extra hour because the party was still going strong! Thank you so much Bobby Bruno!"  – Sondra Finks 11/02/2019
"If you don't hire Bobby Bruno, you're going to miss out on one of the best nights of your life!  It made everything a lot easier and less stressful knowing that he cared for the event and wanted to make sure everyone had the best night ever. Most the the dj's I talked to felt more like a business transaction. With Bobby Bruno, you feel like a priority. He had great communication and was very dependable. I could not recommend him enough, 5 stars is not enough for his service! We can't thank Bobby Bruno enough!  If he is available for your event, do yourself a favor, AND BOOK HIM!!" – Angel M. 10/19/2019
"Best night of my life!  He was very awesome to work with. Truly cared about doing a good job for our wedding, and he helped to make the night perfect. 10/10 recommend!" – Roman Gonsalez 7/20/2019
"The Best!!! Whether it is your first or last marriage, Bobby Bruno is the DJ/Entertainer for you!! He's there for the young and the seniors – any generation of music! Bobby can sing, he can dance, he can play you a song on the piano. To top it off, he has the looks and personality to keep the celebration going!! Wonderful job – thank you!" – Vern Tillberg 2/23/2019
"My husband and I worked with DJ Bobby Bruno for our wedding and he is absolutely amazing. We aren't a couple big on dancing and were not expecting a huge crowd, but people were dancing all night. Bobby Bruno knows how to put on a good show. He handled all of our snags perfectly and came up with plan suggestions when we did not have any ideas.
My husband & I wanted to ensure all our guests enjoyed the music, from the youngest to the oldest. Bobby Bruno didn't just meet this expectation he exceeded it. One of the best testaments to this came from a guest who said "I danced too much that night that I physically just couldn't dance anymore." Moreover, we have had numerous calls from guests who said "your DJ was awesome!" I guess Bobby's secret sauce is that he knows his audience, takes their cues, tastefully engages them and creates an unbelievably fun environment. On a scale from 1-10, DJ Bobby Bruno is definitely an 11+.
Our wedding reception was so much fun we wish we could do it all over again! We just wanted to say THANK YOU again for EVERYTHING!…your kindness and generosity. It was really nice meeting you and celebrating our wedding with you. We'd recommend DJ Bobby Bruno to anyone, anytime!" -Ron & Kathy 9/15/2018
"Bobby Bruno was an absolute rockstar! To say it was a stressful day for us would be a complete understatement. It started raining out of nowhere with an hour before guests started showing up. We had to act fast and move EVERYTHING from our backyard to our 3 car garage with 70 guests showing. Bobby kept an optimistic and positive mindset and set up his gear in BOTH our garage and out back. He was ready to transition quickly if it stopped raining…Guess what, it did stop! So after dinner, we transitioned to the backyard and made for an UNFORGETTABLE night. We are so grateful for Bobby and his positivity. Dance floor out back was full all night long. CHEERS!"
-R. Negrete 3/10/2018
"Phoenix DJ was remarkable! Bobby did everything we asked and a whole lot more! During our planning process, he was there every single time we had a question or needed to make a change. My husband was a little worried that his family would not get up and dance, but was he wrong! I'm pretty sure every one of our guests was on the dance floor at some point. Outstanding job, we will be recommending Bobby and Phoenix DJ to everyone!!" -S. Sanders 3/03/2018
"Very professional and accommodating DJ. We were blown by the level of hospitality that was given by Robert Bruno for our event. I highly recommend him as your DJ for any type of function. He has a personal love for not only music but people as well. He listens to your needs, interacts with guests and will make sure your event will be a night to remember. We have used him many times, and by popular demand, have him reserved again for another one of our functions. You will not be disappointed in his services. He is the #1 DJ in Phoenix!" -A. Desai 12/31/17
"We hired Bobby Bruno for our wedding – what a great DJ. He found all of the obscure 90s indie kid songs we requested and fought off people trying to get into the wedding pie before we cut it. He's super energetic and managed to get even our older crowd on the dance floor. Thanks Bobby!" –J. Young 10/21/17
"Never did we imagine our little block party would be such a hit!! As long as Phoenix DJ is available, we will be using them! Very well done, can not thank you enough!"
-J. Harbort 5/19/17 
"Bobby is the BEST DJ out there. I've attended 3 events with him there and 2 were for my kids weddings. EVERYONE tells us what a great DJ he is and how much fun everyone has. He gets everyone involved. Truly top notch – I recommend him to anyone wanting the best DJ experience out there. Awesome job Bobby Bruno – you are fabulous!" -B. Best 2/11/17
"He is going to be our DJ for my March wedding and so far he has been amazing to work with! thank you so much for all that you do!" -J. Goverman 12/15/16
"Bobby has performed our school dance the past 4 years and does an incredible job every time! Students and staff ask for him specifically, thanks for the wonderful job you do!"
-E. Lester 12/10/16
"We almost did not go with a DJ service since this is a second marriage for the both of us. However, we had a close friend recommending Phoenix DJ so we decided to give them a shot and could not be more appreciative. He was able to keep the night flowing at a steady pace and the dance floor remained busy, which is no easy task with our family! We would like to highly recommend Phoenix DJ for any wedding, big or small, thank you!" -J. Beck 11/26/16
"Apologies on the delay; we have been receiving nothing but raving reviews regarding our entertainment. We will absolutely be recommending you to anyone needing a DJ! Thank you so much for making our wedding night so memorable!" –R. Donahey 5/28/16
"Thanks Bobby! It was a blast and everything was flawless. A perfect night for us. You two did a great job last night, we received a ton of compliments on the DJ's!!" –J. Hahn 5/1/16
"Not sure what we can even say that can convey just how great Bobby was! Have your clients call me and I will tell them what fools they are if they do not book with you! HAHA. Remarkable job, Bobby!" –J. Franklyn 11/14/15
"We were thrilled with the service! I honestly don't think there is one thing we would change. They were amazing! Bobby was amazing to deal with, he made the planning so easy over the phone! He was very helpful the entire way along. All the guests kept saying how awesome the DJ's were."
–N. Britt 10/10/15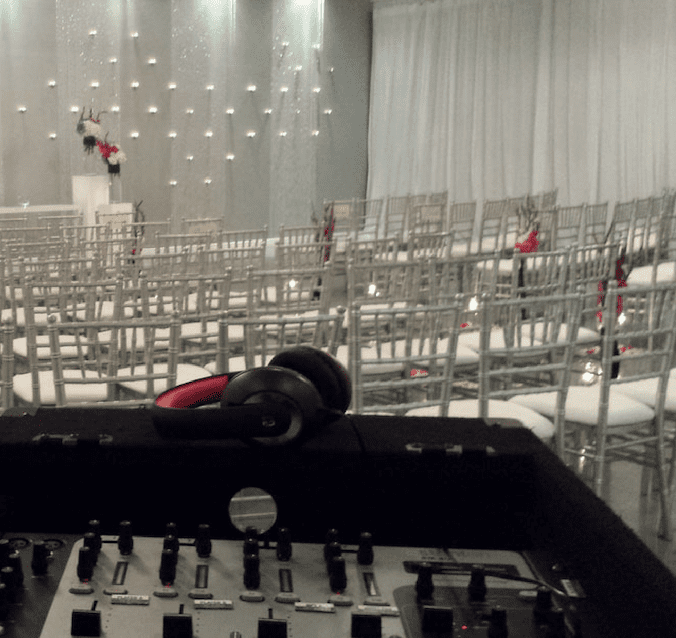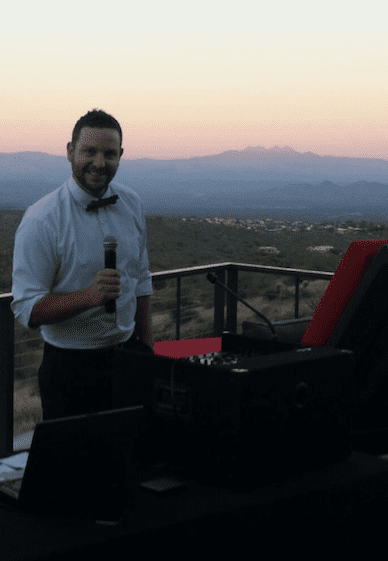 Call Now or Text to get scheduled! Our services are booked on a first come first serve basis. So the sooner you call the better we can accommodate your entertainment and multi-media needs.